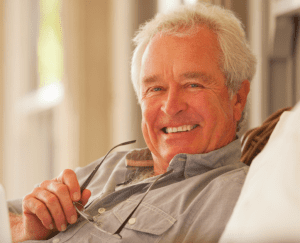 If you have traditional dentures or a bridge, you probably know all about the challenges that these devices come with. But when you're simply tired and sick of having your bridge or dentures embarrass you by slipping out of place, maybe it's time for you to consult a dental implant specialist. Below you'll find some techniques for discussing other options with your dentist, especially dental implants.
Call our Jarrettsville dental office today at 410-692-6132
Worry about implants slipping out of place or falling off at an embarrassing moment will be erased by the fact that they're anchored permanently into your mouth. As a result, you do not need to take them out every night to clean them as you'd with dentures. You will be in a position to keep your implants feeling as good as new with the type of regular brushing and flossing you implement on your natural healthy teeth.
Dental implants could enable you to showcase a naturally beautiful smile while enhancing other features. Old people could possibly have sagginess caused by aging skin but most of it's caused by tooth loss; sagginess can be fought when you install dental implants. Your facial structure will probably be stronger and therefore won't sag. This is a substantial step towards having a great smile once again.
Implants are placed over a metal rod that can integrate with your body without causing any health complications, like rejection. These rods bond with your jawbone and produce a permanent connection that clearly grows more suitable over time. Dental implants, or artificial teeth, are then attached to the rods and will look and act the same way your teeth had before they went missing.
Lost teeth are vital to fix for both your health and confidence. Your attitude may begin to change when you no longer have that beautiful smile. Social settings may cause you to become anti-social and angry due to your insecurity. Dental implants, however, can make you eager to smile again and show off a beautiful set of gleaming, straight teeth.
Dental implants are currently the only technique that's proven to preserve your bone and stimulate your own bone growth naturally. Dentures have been used for decades, however they can be frustrating to live with when they slip and interfere with speech. A dental implant comes with none of the awkward problems of traditional dentures. Correctly installed, it is going to look and function just like any of your healthy teeth in your mouth.
When you are making a decision about having dental implants installed, the primary thing you will look for in a dentist is experience. Experienced implant specialists produce results that are indistinguishable from natural teeth. If you choose to have dental implants done, you will experience considerable technological advances in the dental industry. Working with a dental implant dentist has many persuasive advantages.
Call our Jarrettsville dental office today at 410-692-6132