Happy patients make us happy! We strive to provide the best care, and hearing about satisfied patients makes our hard work worthwhile. Take a moment to read what others are saying about us and know that we look forward to providing you with the outstanding dental care you deserve.
Patient Testimonial for Emergency Treatment
Dr David Stern, Jarrettsville Family Dental, 2000 Schuster Road, Jarrettsville MD, 21084. If you are having dental pain call us today 410 692 6132
Thank you Card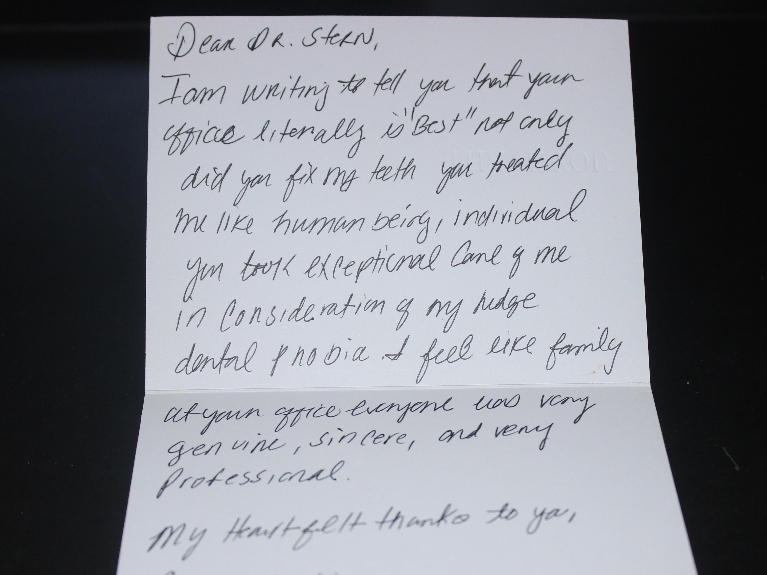 Dear Dr Stern,
I am writing to tell you that your office literally is "Best", Not only did you fix my teeth, you treated me like human being, individual. You took exceptional care of me in consideration of my huge dental phobia and feel like family at your office. Everyone was very genuine, sincere, and very professional.
My heartfelt thanks to you.
Thank you Card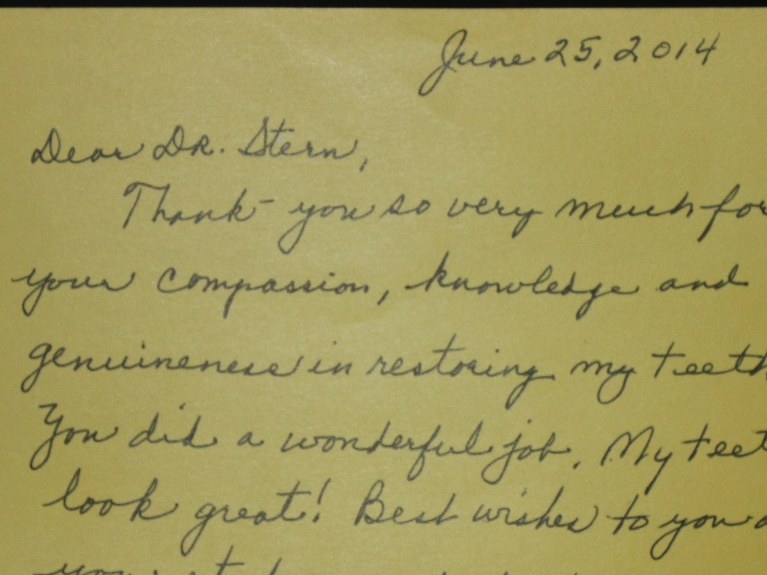 Dear Dr Stern,
Thank you so very much for your compassion, knowledge and genuineness in restoring my teeth. You did a wonderful job. My teeth look great!
Dental Implants
I was a patient of Dr. David Stern while I was getting a dental implant. Dr. Stern was very accommodating and caring from the beginning going to great lengths to ensure proper communication before we began the process. He explained the entire procedure before the surgery and gave detailed answers to my questions every step of the way.
Dr. Stern went beyond standard care and was available by phone after business hours on the day of my surgery which I greatly appreciated and felt very comfortable and confident in his care. I found Dr. Stern very knowledgeable, easygoing, and pleasant to work with.
I am very satisfied with the results and happy that I was placed under Dr. Stern's care.
Sincerely,
Ayla S
Dental Implants
I just wanted to express my thanks for your exceptional service in obtaining my new tooth. Throughout my experience you have not only been professional, but kind in your dealings with me. On my behalf, you've not only exhibited technical prowess in making dental decisions, but you also, as appropriate, included me in your decision making process. You were also very helpful in willingly answering all of my technical questions each time I came in.
Again, thank-you for making getting a new tooth such an enjoyable experience.
I wish the very bless for you, Dr. Stern.
God bless you and yours.
Sincerely,
Steve K
Same Day Crowns
I have been a patient of Dr. David Stern. His dental treatments/services included a bridge and crown. The bridge was in my opinion highly successful
due to Dr. Stern's expertise and thoroughness. The crown was especially interesting because it involved the use of new technology; I had my new crown in less 2 1/2 hours! I would especially recommend Dr. Stern because of his outstanding technical abilities: he is diligent and is very focused on creating a finely crafted product.
Sally R
Emergency Treatment
I had the pleasure of being Dr. David Stern's patient when I came in for emergent pain. My first visit with him involved an exam and xrays. The exam involved some painful test and the xray was very difficult for me totolerate. Dr. Stern was very patient and compassionate and talked me through everything.
My second visit involved a permanent filling. He explained everything to me and made sure I knew all my options before proceeding. He did a wonderful job and I am completely satisfied with his work.
Dr. Stern is very knowlegable, patient, kind and considerate and I would not have a problem recommending him to any of my friends or family. I have complete confidence in him.
Rita S
Nov 8, 2016
All of the above plus friendliness of staff. Cooperation of schedule changes are a big asset in this practice. Can't say enough GOOD things about this group.
Oct 17, 2016
Dr David and his staff provide great oral care. They combine sensitivity and compassion with the most current dental procedures to give excellent service. The waiting room is clean, spaceous and comfortable, the staff friendly and helpful and heated neck wraps are relaxing. Jarrettsville Dental does make the dental experience pleasant.
Oct 9, 2016
I found Jarrettsville Family Dental when another dentist in Harford County had literally destroyed me with very poor workmanship and extremely expensive veneers, which he would not take responsibility for. It was quite a job – however – mission accomplished. I've been going to Michelle for the past five years. She is the best dental hygienist I have ever had. Her knowledge, and friendliness makes the appointment feel more like a social visit. She has the hands of an Angel. The staff is "SUPER". Lynn the receptionist makes you feel at home when you come through the door. She knows everyone, and covers everything. She makes your appointments quick and easy. They bend over backwards for your convenience and everything is done with extreme professionalism. The office and waiting area makes you feel like "home" and don't worry about the parking – they have their own parking lot.
Sep 19, 2016
Over many years I have dealt with quite a few dental practices. Never have I meant a practice as friendly and caring as Jarrettsville Dental. My husband and I are very pleased with Dr. Stern and his staff. They make feel us so comfortable and are willing to assist in every way to see that each visit is a pleasant experience. The dental insurance is a great plus. Dr. Stern is a great welcome to the Jarrettsville area and we would recommend him to anyone looking for a welcoming and professional practice.
Aug 31, 2016
I have been A patient at this practice for approximately 20 years. I had my first experience today with the new doctor and must say it was a great experience .I would highly recommend anyone in the area looking for a dentist
Aug 30, 2016
Excellent care, very inviting
Aug 19, 2016
Dr stern is very personable and explains what he is going to do. I was made comfortable and my treatment was quick .
Aug 19, 2016
Everyone was profession Everyone was very professional and I was treated in a timely manner.
Jul 21, 2016
I was EXCEPTIONALLY impressed with the fact that Dr. Stern came out into the waiting room to introduce himself and ask a few personal questions on my first visit with him as the new doctor. It spoke volumes of his character and is exactly what most businesses are lacking these days. Lynn, as always, friendly and professional, also taking a moment to ask about family members, have a short personal conversation or answer insurance questions. Michele too, always affable and does a great job without causing me any pain! I strongly recommend Jarrettsville Family Dental for making each visit less clinical and more personal.
Jul 21, 2016
I HAD AN APPOINTMENT WITH DR.STERN ON 20 JULY TO FIX A PROBLEM FILLING. THEY STARTED ON TIME. THEY WERE VERY FRIENDLY,EFFICIENT AND CONCERN ABOUT MY COMFORT. THERE WAS VIRTUALLY NO PAIN AND THE PROCESS WAS COMPLETED IN A TIMELY MANNER. I WOULD RECOMMEND JARRETTSVILLE FAMILY DENTAL.
Jun 30, 2016
I have been going to Jarrettsville Family Dental for a number of years and I have been extremely pleased with the care and professionalism that I have experienced. Lynn at the front desk is very cordial and welcoming as well as performing efficient administrative duties. Michelle has been wonderful as my hygienist. Her diligent care and concern for keeping my teeth clean and free from issues has eliminated problems that stem from early years of neglect. Dr. Stern is personable and very competent and with his attentive assistant Jessica minimize any discomfort while completing the necessary procedures. It is comforting to know that good quality dental care is local and responsive to any needs that arise. My wife and I look forward to continued proficient dental care with the staff at Jarrettsville Family Dental.
Jun 9, 2016
My family has been coming to Jarrettsville Family Dental for over 10 years. There is excellence in every area of the practice. The staff is professional yet very caring and friendly. Great care is taken to make sure the patient is comfortable and relaxed. My husband has had extensive dental work and has been very pleased with the results. We will miss Dr. Doyle who recently retired, but we have met Dr. Stern and anticipate continued excellent work. Thanks to Michelle and Lynn for their dedicated and cheerful service!
Jun 7, 2016
After my first visit to Dr. Stern's new dental practice in Jarrettsville, I felt I was in very good hands. The entire staff is friendly and professional. I am pleased and expect to continue being a patient at this office.
May 25, 2016
I have been coming here for many years and have always had a great experience, the entire staff is wonderful. The quality of care they provide is above average always!
May 19, 2016
From the outside Jarrettsville Family Dental looks like a small country practice but it hides the high technology within. I used and benefited from their continuous upgrading since moving to the area in 1979 and they continue to provide appropriate solutions to my dental needs. I have had CAT scans, root canals and crowns made on site while waiting in the chair. I would highly recommend Jarrettsville Family Dental for your dental needs.
May 3, 2016
I have been using Jarrettsville Family Dental since I was a child, about 50 years. I have been through many transitions with this group and with each transition things have become more patient centered (love the neck wraps and massage chairs). Through it all, the staff has always provided a friendly, courteous and professional atmosphere. The name 'Family' Dental is truly the perfect name. This office makes you feel like you are part of their family while you are there. I met Dr. Stern yesterday and was very impressed with how he came to the waiting room to introduce himself and talk with me on a personal level. I welcome Dr. Stern and look forward to many more years with this great group of caring people.
Apr 20, 2016
very relaxed, very respectful, very friendly, very professional, very thorough. I was not pressured for services I didn't desire.
Apr 19, 2016
I absolutely love Jarrettsville Family Dental, and this can be proven by the fact that when I took a trip home from out of state, one of the first moves was to schedule an appointment with them! Very professional and friendly, they get the job done and leave your mouth feeling like the tooth fairy gave you a fresh set of sparkling teeth! A+.
Apr 13, 2016
Wonderful experience! I was soooo nervous when I learned Dr. Doyle had retired but am happy to report the transition could not have been more seamless. Dr. Stern and the entire staff could not be more friendly and accommodating and the quality of work is second to none. HIGHLY recommend to anyone looking for a wonderful dental experience!
Apr 7, 2016
Entire staff is great – friendly and welcome. Highly Recommended.
Mar 30, 2016
I have received expert dental care in a warm, friendly setting at Jarrettsville Family Dental for 26 years. Dr. Stern has an easy going, unhurried, chair-side manner. He lets me know exactly what he is doing at every stage of any procedure and he is careful to avoid or minimize any discomfort. Going to Jarrettsville Family Dental is almost like going into a good neighbor's home.
Mar 17, 2016
My wife and I highly recommend this dental practice. We have been coming here for years b/c we enjoy the friendly, caring and professional staff, the warm and comfortable ambience and the consistent quality care we receive w/ each visit. We are especially grateful for the convenience and peace of mind this practice provides.
Mar 16, 2016
Going to see the dentist is always a pleasure at Jarrettsville Family Dental. For me, it's going to the dental spa. The massaging chair and warm neck wrap make the experience very enjoyable. The quality of care is top notch. The convenient location and hours round out the always great experience. I recommend Jarrettsville Family Dental highly!
Feb 17, 2016
I have been a patient for over 40 years. The quality of care gets better and better. I met Dr. Stern for the first time yesterday. He was very professional and seemed very caring.
Feb 10, 2016
I have been coming to this practice for many years. The entire staff is very warm and professional. Our experience has been with Dr. Doyle and he has done some really great work and has really helped me with preventative care. Today I met Dr. Stern and I believe he will be very happy with this great team of people and we look forward to getting to know him too.